Happy Holidays Golfers!
Wow what a year it has been! Moving DLP Golf and, starting Mission Golf Academy in the public sector of golf this year has been nothing short of a blessing. There is much to be grateful for such as numerous opportunities to coach abroad as well as locally. Our students from the past and present, (and future) are all benefitting from the new Results Based Coaching method that was rolled out this year. Pinecrest Golf Club in Bluffton, which has the best public facility in the Lowcountry, continues to allow me to operate Mission Golf Academy. The weather has been great so I will stay outside for now but I also have local indoor facilities that are proving just as much fun.
Happy Holidays from our family to yours!
David, Anna, Gretchen, & Zachary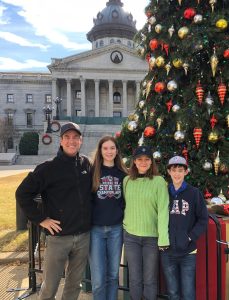 PS If you are looking for a great holiday gift, why not a gift certificate from Mission Golf Academy. It makes for the perfect gift that will have them smiling all year long! See the flyer here:
MGA Holiday flyer 12.3.21